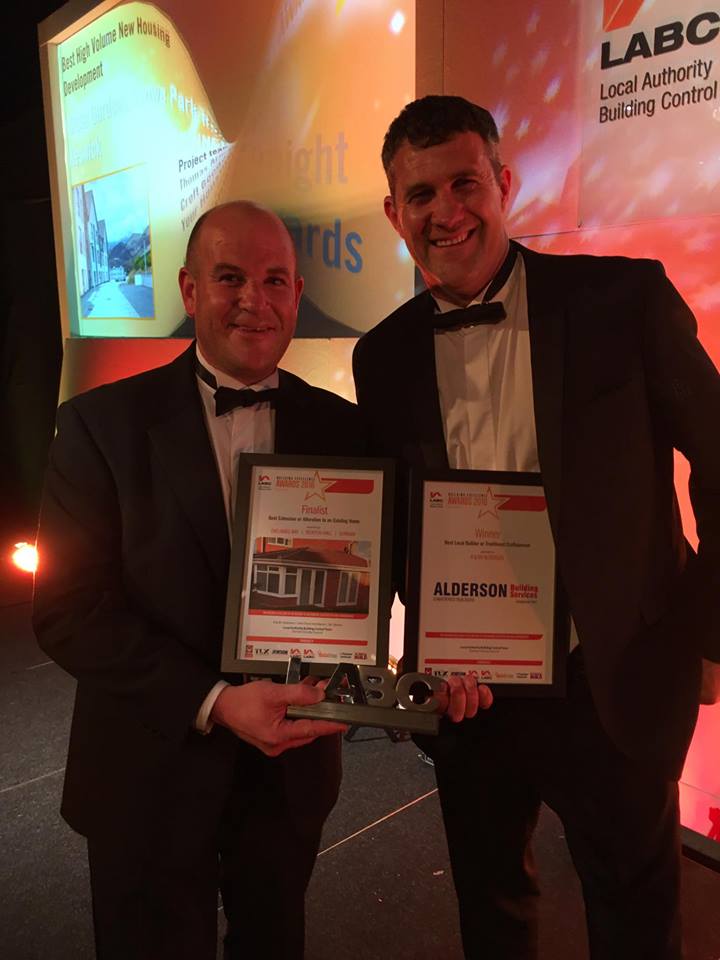 Popular Durham Builders scoop Northern Building Excellence Award
photo of Aldersons receiving award
R&BH Alderson has won at the LABC Northern Building Excellence Awards. A family business for over 95 years, the company is an integral part of Durham's local community.
Over the years they have grown significantly, from a horse and cart firm to one with a fleet of vehicles, and have established themselves as a well-known and trusted builder.
Greg Alderson, a Director at the company wanted the work of his loyal staff to be recognised and rewarded, which is why he nominated them for the Best Local Builder award. "A lot of our workforce have been with us for over 25 years and know exactly what it takes to work in private dwellings and how to give our customers peace of mind. Our after sales service, I believe, is second to none. We stay in contact with the client after the work ends, and use their feedback to help us continually improve our service."
The company also has a respected apprenticeship scheme, to teach and mentor young builders so that they can learn the skills they need to make it in the building trade. It's a testament to the quality of the builders that so many of them stay on long after their apprenticeship ends.
Over the years they have maintained a good relationship with Building Control at Durham County Council. Greg added "Having a good relationship with Building Control ensures that our projects are carried out to a high standard. With regular site meetings with clients and a full time craftsman in our joiners workshop we can always deliver the clients needs."
R&BH Alderson will progress to the LABC Building Excellence Awards Grand Final on 28th November in London. For more details visit ww.labc.co.uk/awards.